Learn How to Deal with Microsoft Outlook.pst Cannot be Accessed
Aisha Winget | December 13th, 2017 | MS Outlook
A PST file is an Outlook data storage file, which contains all personal and official information used in Microsoft Outlook. It includes items like emails, contacts, calendar, tasks, notes, and journals. Some improper and unaware changes in the Outlook data file may cause the problem in the program and hence, lead to an error occurrence. A very common error reported by Outlook users is "Microsoft outlook.pst cannot be accessed" and this error results in the issues like unable to open PST file, unable to send and receive emails, etc. The MS Outlook has provided this error a numeric code i.e., 0x8004010f.
Error Consequences
Sometimes while opening an Outlook file, users get following error messages :
"0X8004010f: The file (name of the file).pst is not a personal folders file."
"0X8004010f: Unable to display the folder"
"0X8004010f: Access denied"
"0X8004010f: The operation failed. An object could not be found"
You can also receive various error messages, besides the above-mentioned errors. Let us have a look at real-time problem i.e Outlook.pst Cannot be Accessed data error, which was faced by an Outlook user.
"Last week, when I launched my Outlook software it displayed an error message 'MS Outlook.pst file cannot be accessed data error cyclic redundancy check'. To be very frank, I don't have any idea about what is this error and also, I don't use Outlook very often. Now Outlook PST file is showing error message while I am trying to open it. I would like to know how to fix this error because I need to complete few assigned tasks using my Outlook account. Please, somebody, help me by advising the method for solving this error"
Causes of PST File Corruption
Hardware Issues
Storage Device Gets Crashed: In the case when hard drive of the computer is crashed, there are changes that PST files can get corrupted.
Unknown Network Problem: Network defeated while trying to get information from any client machine.
Improper Sudden Shutdown: PST files can corrupt due to power cutoff or from some other reason, which are the causes of unwanted system shutdown.
Software Issues
Improper File System Recovery: When file system recovery process gets interrupted in between due to which the file undergoes the corruption state.
System Virus Attacks or Intrusion: Due to virus attacks, Outlook files can go into the inaccessible state. This means that an individual will no more be able to work with the file.
Outlook PST File Size Exceeds Limit: If the PST file exceeds the defined file size limitation then, it may cause PST file corruption.
Solving Methods of 'Microsoft Outlook.pst Cannot be Accessed' Error
Now a point comes that how to get over from this Outlook error message and open Outlook.pst file without any interruption? Don't worry, here we are mentioning some easy ways for fixing out this error message. Users must follow every step in a sequential manner for successful and complete execution of the process.
#1: Manual Method
There is only one manual technique through which one can fix MS Outlook error. Now, have a brief look at steps of this.
Step-1: Determine the location of default PST
Launch Control Panel on your computer and click on Mail option.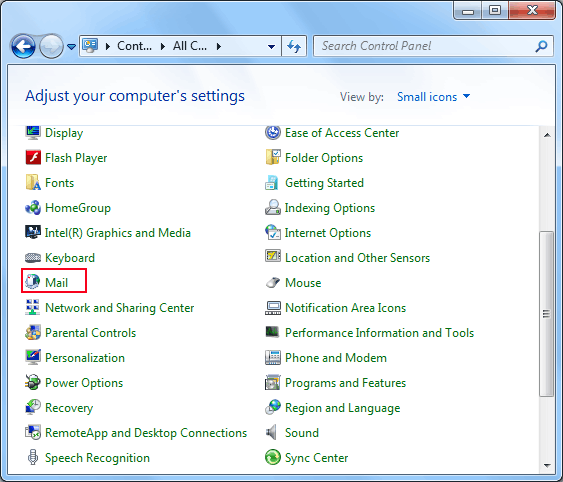 Now in mail setup window, hit Show Profiles button.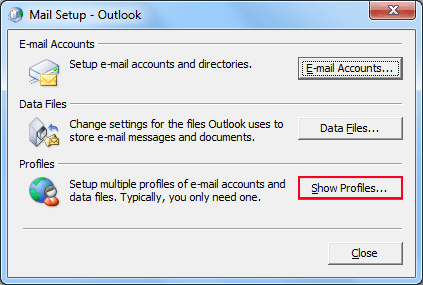 Select the source Outlook profile, which is causing Outlook.pst cannot be accessed error and then, click on Properties button
Click on Data Files button from the current panel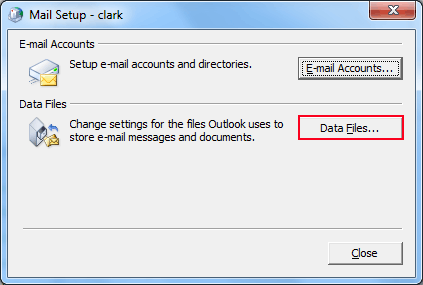 In this newly opened wizard, go to Data Files tab where you will get listed default data file.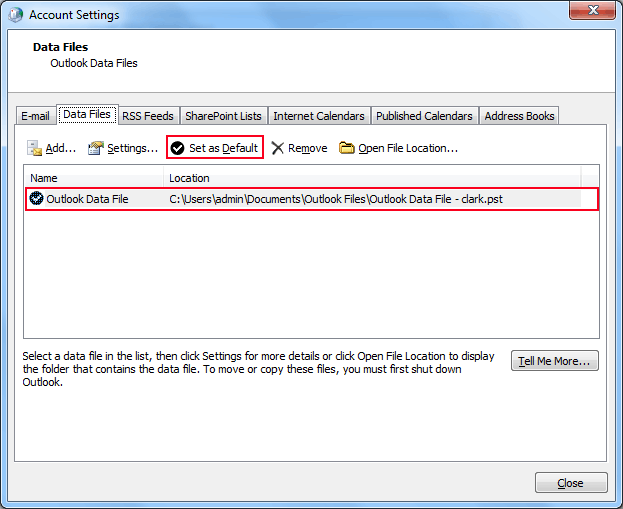 Step-2: Creating New Outlook account
After finishing up with the first step, click on E-mail tab in the same account settings window and click on New button.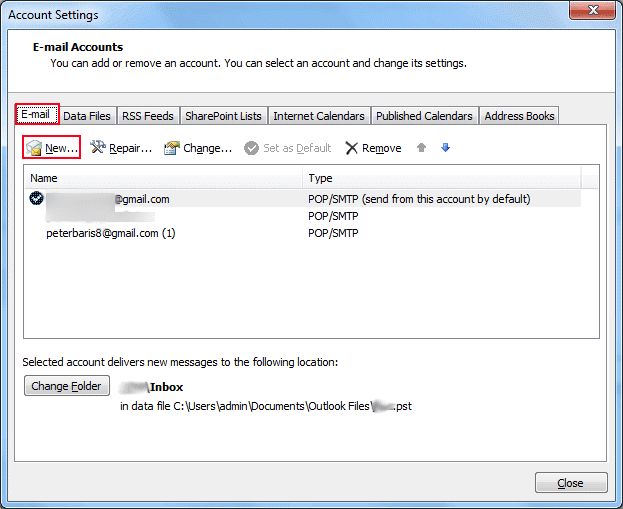 Select the email service type and click Next.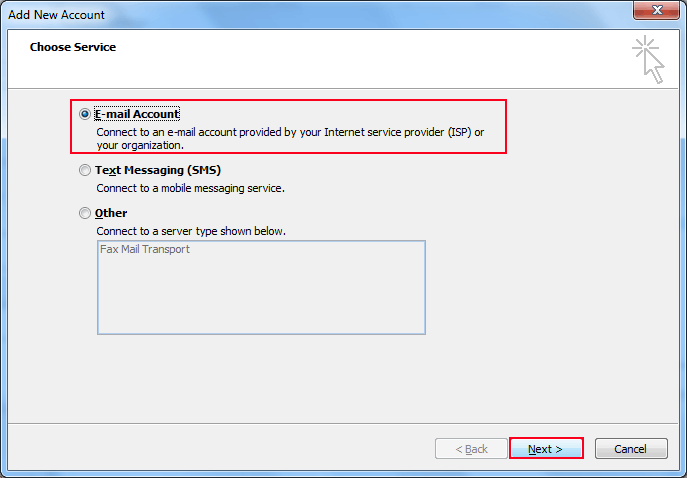 Enter the credentials of the account in their required fields and after that, click on Next button.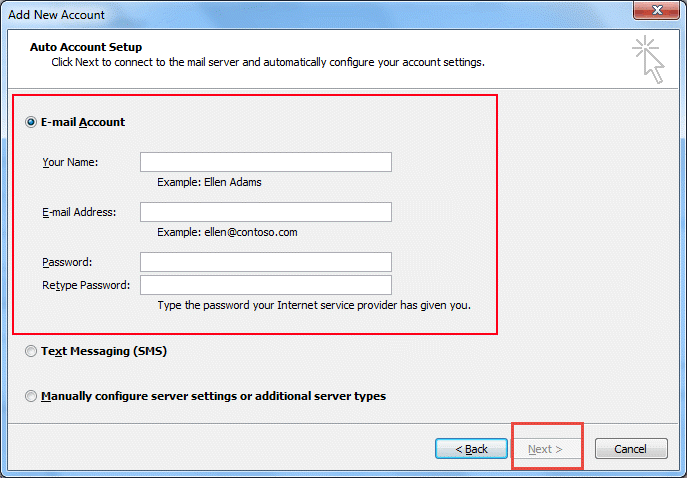 Step-3: Setting up New Profile as Default
Set the configured account as default Outlook account
Again go to Control Panel >> Mail >> Always use this profile.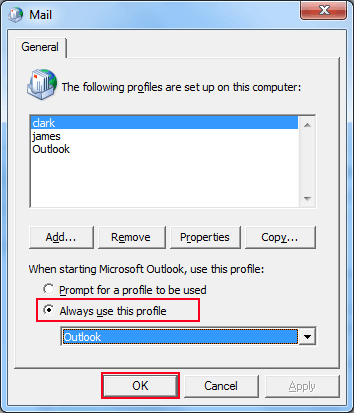 Step-4: Creating a New Outlook PST for Storing Data
Go to Account Setting panel, click on Email tab and choose that account which was causing of error, and click on Change Folder button.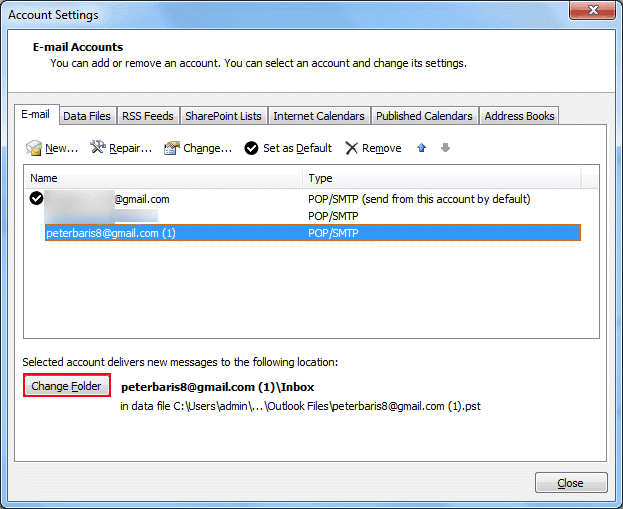 In case, you are working with multiple PST files, you need to select Inbox folder from another Outlook data file and click OK. If there is a single data file then, create a new one and attempt the previously performed action.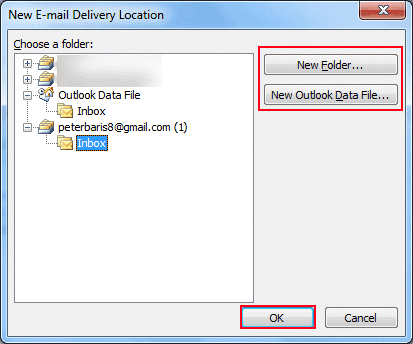 Limitations of Manual Method
Technical knowledge about Outlook is mandatory to have
Too much complicated with different hassle operations
Time taking procedure with lots of headache scenarios
#2: Automatic Method
Every user wants to fix the error without any complications but, this can be done only by using a third-party utility. We know the pain of users in the problem the so, here we are recommending a solution named as PST Converter which can easily recover corrupted PST file. With this software, the users can easily convert PST to EML file format without any data loss.
Why Use PST Converter?
Convert PST file emails, calendars, tasks, notes etc.
Convert PST file without the need for Outlook installation
Supports to convert corrupted & password protected file
Preview Outlook: Mail, Contacts, Task, Journals, etc
Scan PST file & generate instant preview of all items
No PST file size limitation: migrate both ANSI & UNICODE file type
The software supports Windows OS & MS Outlook (32-64 bit)
In 'Microsoft Outlook.pst cannot be accessed error causes' section, we have learned that a corruption in PST file is the major cause for this. If users remove corruption from Outlook PST file then, they can get over from the same. Therefore, this application offers the functionality in a way that it will remove every type of corruption from Outlook PST file and after that users can work normally with their PST file. Now one will not be facing any error while working with Microsoft Outlook email client.
The Bottom Line
We have discussed all the major issues of Outlook.pst cannot be accessed error, which results "Outlook error 0x8004010f". Apart from the causes of error, we have also discussed different workarounds to fix this error. Users can opt for any suitable method and can easily get over from this problematic situation.