Solve "The File Outlook.ost is not an Outlook data file (.ost)" Error
admin | July 27th, 2017 | MS Outlook
Summary: This post shed some light on the topic OST file is not an Outlook data file Error. We will resolve this issue with the help of manual as well automated solution. To know more the users can read this post.
Before discussing this error let us explore more about MS Outlook. Microsoft Outlook is a personal information store or we can say it's a manager, which is available as a part of Microsoft Office Suite. It is basically used as an email application which includes calendar, task manager, contact manager, notes, journals etc. Microsoft Outlook can be used as a stand alone application or can even work in accordance with Microsoft Exchange Server & Microsoft Share Point Server for multiple users.
While using Outlook, all the emails, calendar, tasks, & other items get saved on a mail server or on your computer. The items which are stored on your computer are kept in Outlook data file which is .ost or .pst. A PST file is used to save all data of mailboxes, it contains all the items of the mailboxes. While OST files are used when you have an Exchange Server account & want to work offline or want to use default Cached Exchange mode.
Sometimes there are scenarios when an error appears in Outlook saying "OST file is not an Outlook data file" or "Y2014 is not an Outlook data file" when you try to import OST file to Outlook application. Then it becomes cumbersome for the users to distinguish what exactly has happened to their OST file. Thus to overcome this situation we are here to explain you about this error. Through this blog, you can get help on how to overcome this error easily.
User Query:
"I tried to import Outlook OST file from computer to Outlook. But while doing so I have prompted that the OST file is not an Outlook data file error. I have no idea about this error because I know it is OST file only. Can anybody help me out so that I can get rid of this Y2014 error."
Important Note: In case if your OST file is inaccessible and you are looking for a quick solution to access and recover mailbox items from OST file then the user can simply take the help of OST to PST Converter Application.
Download Now Purchase Now 100% Secure
Causes of OST File is Not an Outlook Data File Error
One of the main reason behind this issue is when the Outlook application doesnt recognise or synchronised OST Files with the server. Some of the main reason of this issue are discussed below:
1. Abrupt or Unexpected Termination of Outlook Application.
2. In case if Synhronised issue is there between the OST files and the Exchange server.
3. Sometimes powert cut may also turn your OST file inacessible.
4. In case of OST file corruption or damaged then there is possibility that the user has to face this issue.
Manual Techniques to Overcome OST File is not an Outlook Data File Error
So far we have seen the OST File is Not an Outlook Data File Error. You can refer the manual procedure to deploy this error of Outlook. All you need to do is to perform some simple & easy steps in Outlook to remove OST file is not an Outlook data file error. Follow the below-mentioned steps to get rid of this error.
Method 1: Check OST File Attribute & Open this File
Check if the OST file is stored on your computer, the possibility of yours meeting this error is when you import the file which is extremely small. If in case the file is stored on a removable device, such as CD-ROM, portable hard drive, floppy disk or any other storage medium there are chances that the file is in read-only status. Thus one need to check the read only status when you copy the file to your computer.
1. Right click on File & choose "Properties" from the context menu.
2. Then in the general tab ensure that the Read-only attribute is not selected.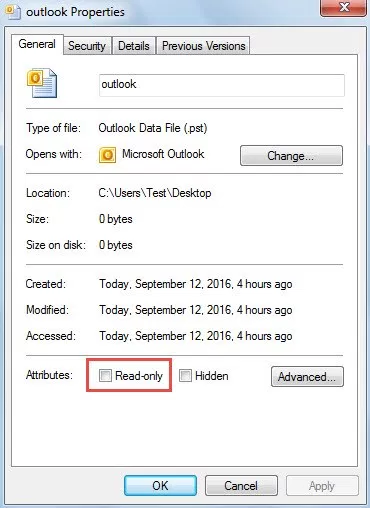 3. Next launch & open Outlook application & go to "File Menu"
4. Then click on Open followed by "Open Outlook Data File".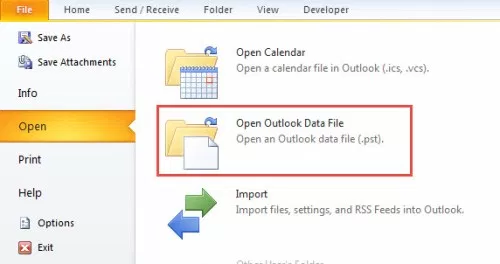 5. In the newly opened window, browse to the destination folder where the OST file is located, then double click the file to open it.
Method 2: Repair OST File by Using Scanpst.exe Utility
Besides using read-only attribute & the importing feature, the corruption of Outlook data file is also a factor of major concern. You can scan & repair the OST file with the help of a free inbuilt utility which is Scanost.exe. You can try the following methods to remove corruption from your Outlook OST file.
Find ScanOST tool in the directory: "C:\Program Files\Microsoft Office\Office 14".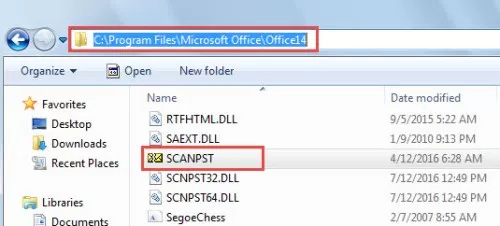 Launch the tool by double clicking on it.
Next, click the browse button to choose the OST file & Start button to scan it.
After the 8 phrases, you will be directed to a new screen, press "Repair" button to start the repair process.
When it gets completed you will see a message – "Repair Complete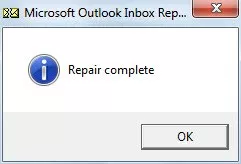 Software Fixes
The software fixes are nothing but a use of the third-party tool. The software fixes help you repair your corrupt OST file without consuming many efforts. The best part of software fixes is that it is free from the manual intervention. Talking about the third party tool you can use OST to PST converter to repair the corrupt OST file through this software you can also fix OST is not an Outlook data file error with ease.
Conclusion
The most common reason behind every OST related error is corruption, thus it is always suggested to handle these files carefully. A complete process has been discussing to let the user understand that how to fix Outlook OST file error message: "Cannot open default email folder, the file xxx.ost file is not an Outlook data file." The manual, as well as automated solutions, are discussed above. You can even use the third party tool to get the job done easily.